Seal-it® 520 PRIMER
Seal-it® 520 PRIMER is a high-quality, extra-durable adhesive primer for sealants and adhesives that is specially developed for porous surfaces/materials and that moisture-cures into a durable membrane.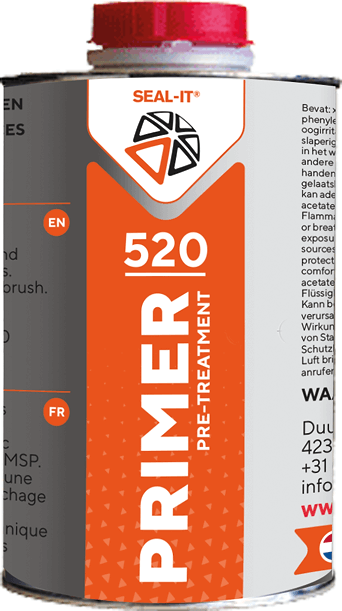 Applications
Specially developed as a durable adhesion promoter for porous surfaces, such as masonry, stucco, cellular and aerated concrete, natural stone, sand-lime brick, untreated wood, gypsum blocks and other absorbent materials.

As a waterproof and moisture-proof primer for lasting protection of surfaces from moisture and water loads, to guarantee a strong and lasting bond/adhesion.

Completely seal porous surfaces off from surface absorption.

Can be used with sealants and adhesives based on silicone, hybrid polymer and MS-polymer® and polyurethane.
Properties
Forms a highly durable, non-porous membrane to protect from moisture and water loads.

Stops surface absorption and ensures excellent bonding.

Secures hard-to-remove dust particles to the bonding surface.

Easy to apply with a brush or roller.

Fast-drying, ready-made 1-part primer that retains its transparency.

Excellent resistance to UV, weather, water, moisture and ageing.

UN-approved packaging, fitted with safety seal.
Application conditions
Application temperature (ambient and surface) between +5°C and +35°C.

Before use, shake and/or mix Seal-it® 520 PRIMER well so it does not form a homogeneous mass.

Use a hard brush to remove any loose particles from bonding surfaces or other surfaces before applying Seal-it® 520 PRIMER.

Bonding surfaces and other surfaces must be dry, clean, uncontaminated, grease-free, dust-free, compatible and stable.

First use Seal-it® 510 CLEANER to degrease/clean greasy or contaminated surfaces properly before applying Seal-it® 520 PRIMER.

Use a suitable brush or roller to apply Seal-it® 520 PRIMER evenly and not too thickly.

If the sealant is not applied within the maximum drying time, you must sand off the old coat of primer and then reprime.

After use, close the canister as quickly as possible, so the Seal-it® 520 PRIMER does not harden.
Standard product line
| | | |
| --- | --- | --- |
| Colour | 250ml can | 1000ml can |
| Transparent | SI-520-000-0250 | SI-520-000-1000 |
SI-XXX-XXXX-XXX = Article number.
Other colours and/or packaging on request.
Certifications